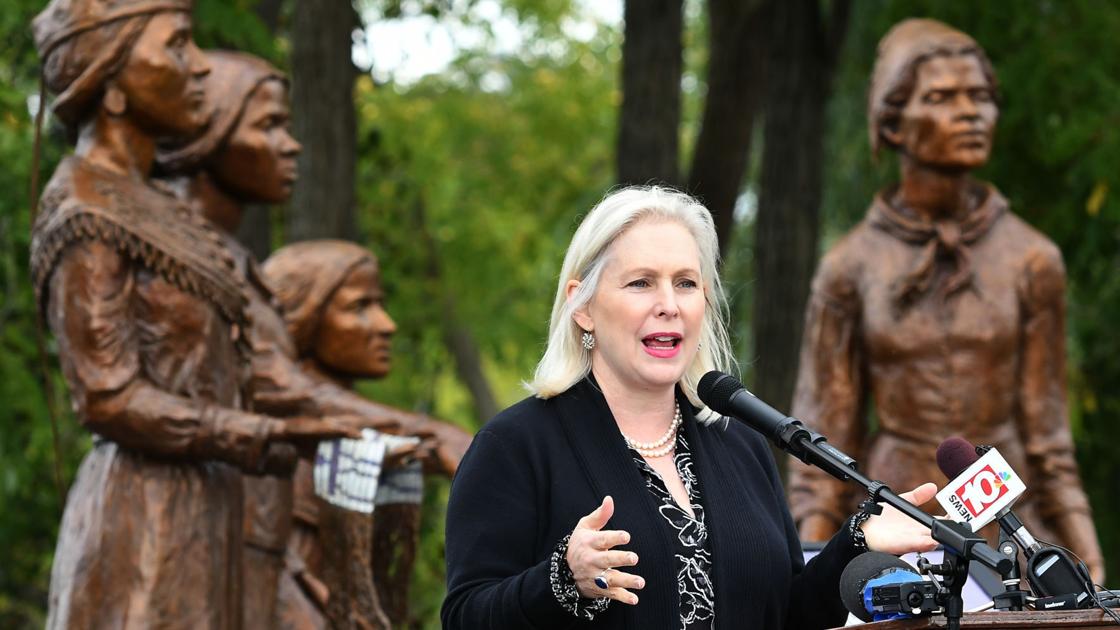 'Ripples of Change' Statue Honoring Tubman and Female Icons Unveiled at Seneca Falls | Local News | Auburn, New York State | Auburnpub.com
SENECA FALLS – Anna Laymon was Executive Director of the Women's Suffrage Centenary Commission when she and her staff began discussing ideas to honor past women's rights activists.
Laymon, who had visited Seneca Falls a few years before the commission was established, knew what she wanted to do. She wanted to build a statue that would stand in the cradle of women's rights.
On Friday, a groundbreaking ceremony was held to unveil the "Ripples of Change" statue featuring four women – Laura Cornelius Kellogg, Sojourner Truth, Harriet Tubman and Martha Coffin Wright. The statue stands on East Bayard Street in Seneca Falls.
The Centennial Women's Suffrage Commission, led by Laymon, partnered with the town of Seneca Falls and the Seneca Falls Development Corporation to place the statue at the site. The statue was designed by Jane DeDecker.
Laymon recalled her first visit to Seneca Falls and acknowledged that she had "never been to a place where women's stories are so high, so exalted," she said.
"This place is so special," she said.
The statue is also helping to reverse a trend in the United States. As Laymon explained, only 8% of memorials, monuments and statues in the United States tell stories of women.
This could be seen as one of the major achievements of the commission, which was created to celebrate the 100th anniversary of women's suffrage. The dedication ceremony brought together several federal, state and local leaders, including U.S. Senator Kirsten Gillibrand, who was the keynote speaker.