Ramona's Kiwanis Club holds a lively meeting at the museum
On Saturday, members of the Ramona Kiwanis Club had a busy morning at the Guy B. Woodward Museum. They honored their Outstanding Student of the Month for April, presented a Scout with a $400 check for his Eagle Scout Project, and heard about services and activities at State Senator Brian Jones' offices locally and in Sacramento. .
Cheryl Van Dyne, Kiwanian of the Day and member of the new board of the Ramona Pioneer Historical Society, spoke about the May 7 dedication of the Guy
B. Woodward Museum and plans to make the museum a community hub. She peppered her speech with questions about Ramona's story.
Dominic Ingrao, 16, a member of Boy Scout Troop 301 at Scripps Ranch, shared plans for his Eagle Scout project at Ramona Fire Station 81 after
receive a check for $400 from Ramona Kiwanis Treasurer Darryl Albertson and President Pat Bell.
Thanking the service club, Dominic said the money will go towards supplying a vegetable garden at the fire station at 24462 San Vicente Road so firefighters can enjoy farm-to-table food. His plans include building three 4ft by 8ft planters for the garden which had been started by a firefighter who was unable to complete it, leaving him in disarray. Donations for the project include a patio table, six chairs and two benches.
Dominic's project will include a plaque in memory of Logan Krapf, who died aged 14 when he was hit by a van while skateboarding on a street near Station 81 on November 14, 2020. Station paramedics and firefighters responded. Although he doesn't know Logan, Dominic said he feels a connection to him since they both play on their school's football teams and enjoy skateboarding.
Dominic's mother, Elena Ingrao, is program manager for both Head Starts in Ramona.
Also at the Kiwanis Breakfast, the club honored Mountain Valley Academy sophomore Claire Campbell as an outstanding April student from the
Month. Claire's teacher, Catherine Arrington, described Claire as an exceptional student who loves to learn, challenge herself and do a lot of
school homework.
"She's a great student in the classroom," Arrington said, adding that Claire listens carefully and helps turn the classroom into a welcoming place.
When Arrington asks students to write a sentence or paragraph, Claire will write a story, the teacher said.
Claire's parents, Kathy and Dave Campbell, and MVA director, Kathryn Gunderson, joined Claire and Arrington at the reunion.
The meeting also included a presentation by Andrew Hayes, District Manager for Sen. Brian Jones of the 38th District. As chief of staff for Jones' two local offices, Hayes and other district staff focus on constituent services. During the COVID-19 pandemic, they helped about 2,500 families, Hayes said. They also prepare and present proclamations recognizing people who are doing great things in their communities, he said.
Additionally, Hayes attends community events and meetings to talk to constituents and hear about their concerns.
"We need to be accessible to our constituents," he said. "…We want to hear from you… It's important for us to know what everyone thinks, important to see what is needed in the legislation."
In Sacramento, Jones and his team work on bills to introduce in the Legislative Assembly. In response to increased theft of catalytic converters, for example, Jones introduced legislation requiring car dealerships to mark the vehicle identification number on the catalytic converter of each vehicle and requiring recyclers to keep records of all sales of catalytic converters. The proposal also gives the criminal code more teeth to tackle the rise in catalytic converter thefts, Hayes said.
"It's a way to track stolen catalytic converters and increase the crime so it's more enforceable," he said.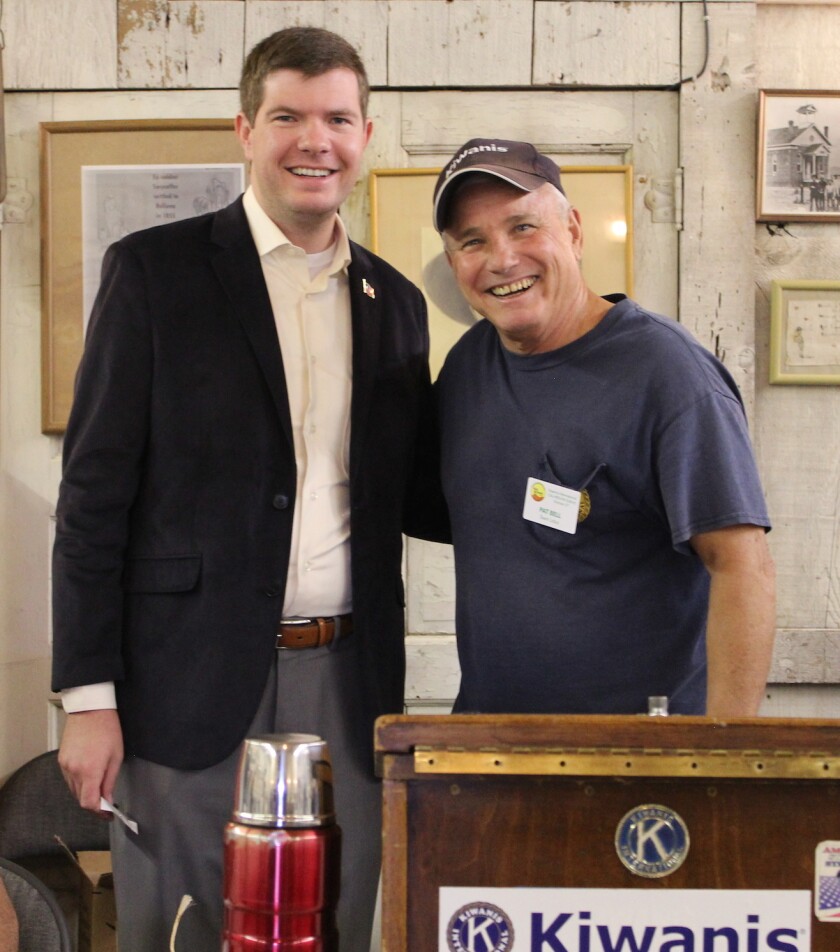 Another bill introduced by Jones as a result of voter concerns is the Sexually Violent Predator Accountability, Fairness and Enforcement (SAFE) Act.
to increase transparency and allow for public participation before placing sexually violent predators who are mentally disturbed and likely to be repeat offenders in a community. It also limits the percentage of sexually violent predators that can be placed in a community.
The senator is also working on legislation that would screen young people for early diagnosis of sudden cardiac arrest.
Additionally, Jones supports more resources to address homelessness, Hayes said. As for the state's $68 billion budget surplus, "let's look at funding existing programs instead of creating new ones," he said.
Hayes, a Lakeside resident, earned degrees in political science and business from the University of San Diego and serves on the Lakeside Union School District Board of Trustees.
He presented each member of the Kiwanis Club of Ramona with a Certificate of Recognition from the Senate for outstanding community service on the part of Jones.
The club hosts Saturday breakfasts at 7 a.m. at Hatfield Creek Winery at 1625 Highway 78. The group met at the museum on April 30 to see the work being done in preparation for the museum's next grand reopening. .
Van Dyne led several members on a tour of the museum after the meeting.
For more information about the Ramona Service Club and its plans for the Music Fest in the West fundraiser on June 25, contact President Pat Bell at 760-533-4884 or [email protected]