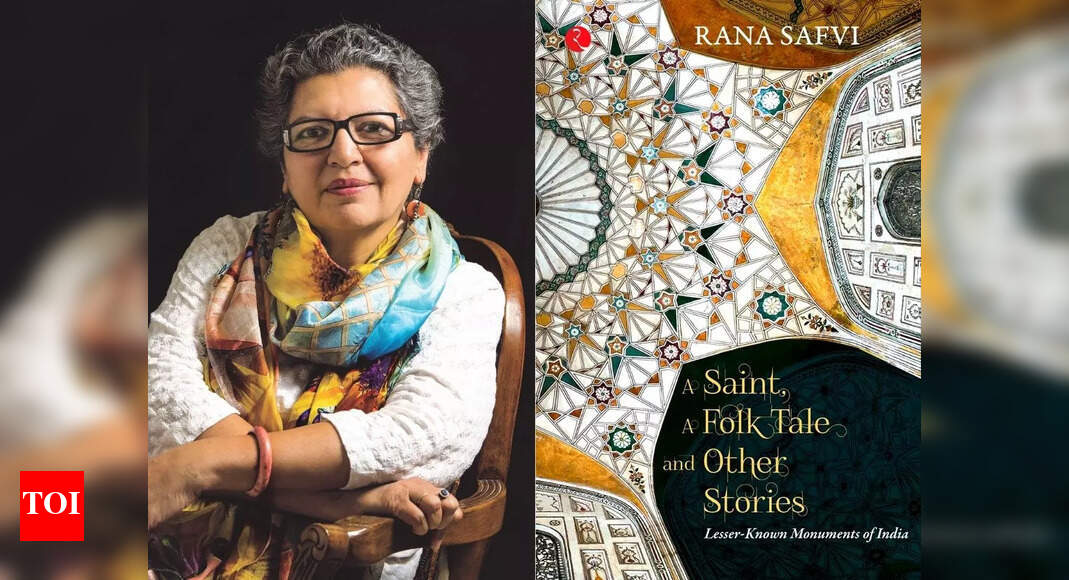 Exclusive Interview: Author Rana Safvi on her latest book, the role of monuments in history, and more
Author and translator Rana Safvi's latest book titled "A Saint, a Folktale and Other Stories" was released in December 2021 and has been to critical acclaim ever since. Published by Rupa Publications, the book "takes the reader to secret and hidden parts of India beyond the usual tourist destinations". It takes you back in time and on a journey to discover India's vast architectural heritage.
The book's blurb reads: "Discover the secrets that Khusrau Bagh hides in her heart, marvel at the forgotten resting place of a queen, hear folk tales and fables embedded in the structures, and walk through the poetic journey to some of the places where the great poets sleep, in the hope that the book will take the reader on a journey of its own."
In a recent chat with TOI Books, Safvi spoke in detail about "A Saint, a Folktale and Other Stories", the role of monuments in history, why some monuments are more popular than others, and more.

1. Your latest books largely focus on the city of Delhi, its history and its forgotten monuments. However, in your latest book "A Saint, a Folktale and Other Stories" you stray from Delhi and talk about India's "lesser known" landmarks. Why the change?
I have described over 450 Delhi landmarks in my Delhi trilogy and although a few are still missing, I have covered almost all major Delhi landmarks. There is an urgent need to raise awareness about our built heritage and so I felt the need to expand my network and describe lesser known landmarks of India.
2. Why do you feel the need to write about lesser known or forgotten monuments? What role do monuments play in our history?

While famous landmarks are seeing huge tourist traffic, there are equally important parts of our built heritage that are being overlooked. This neglect is often linked to the neglect of the monument as well. My goal was to raise awareness and create a connection in the minds of travelers that would invoke in them the desire to visit. Monuments are tangible art forms and are the most common way to engage with history, especially for students and those in non-liberal arts streams, and a wonderful way to learn about it. more about the history of this period.
3. A monument is a monument, a piece of history. So why are some of them extremely popular and others in dire need of restoration?
The popularity of a monument depends on how it is written about and perceived as part of our collective memory. Taj Mahal is indeed one of the most magnificent specimens of architecture and has been written about by countless people. The history of the Taj Mahal as a monument of love is etched in our minds and hence it is no surprise that it is the most visited monument in India. But what about Burhanpur? Mumtaz Mahal died there and was temporarily interned in the Ahookhana. His body was brought to Agra for permanent burial six months later. This city is full of Mughal relics, memories of Abdur Rahim Khan-e Khana who served as subedar there, and Mumtaz Mahal. I hope my stories will help develop tourist traffic there which will result in the upkeep and preservation of these monuments.
4. At a time when the names of many places, cities and monuments are changing, do you feel a difference in the way authorities and people approach a monument in terms of religion? Is there something like a "Hindu monument" or a "Muslim monument"?
My goal in writing about our built heritage is to suppress this us versus them debate. Our built heritage belongs to everyone and deserves everyone's care and attention. For me, every piece of our architectural heritage showcases the skills and dedication of our Indian craftsmen, craftsmen and architects. This is what we must celebrate. My book is dedicated to the artisans who gave their lives to leave behind monuments for posterity with a verse by Sahir Ludhianvi from his nazm 'Taj Mahal':
"Meri mahbub unhen bhi to mohabbat hogi
Jin ki sannai ne bakhshi hai uses shakl-e-jamil
Un ke pyaron ke maqabir rahe benam-o-numud
Aaj tak un pe jalai na kisi ne qindil"
—Sahir Ludhianvi
(My love, they must have loved too

They, whose art gave it this beautiful form

The graves of their loved ones, remain forgotten
So far no one has even lit a candle in their memory)
5. In your opinion, what is the best, but most underrated, monument in Delhi and India? Why?

If we talk about pan-India, my favorite is Fatehpur Sikri. It pales in comparison to the Taj Mahal and most visitors to Agra do not make the trip to Fatehpur Sikri. It is a testament to our glorious and syncretic history. In Delhi, my favorite haunt is the Mehrauli Archaeological Park with a history that spans from the Sultans of Delhi to the Mughals. We see the appearance of the first true arch in the tomb of Balban and the glory of a magnificent multi-coloured incised plaster ceiling in the tomb of Maulana Jamali.
6. Five books that you recommend to those who want to know more about the monuments of India?
As for the monuments of India, I have relied on the reports of the Archaeological Survey in the years from the 19th century, "Indian Architecture" by Percy Brown, "Ancient India: New Research" by Upinder Singh and Nayanjot Lahiri, "Architecture of Mughal" by Catherine Asher. India", Ebba Koch's "Mughal Architecture: An Outline of Its History and Development (1526–1858)" and "The Art and Archeology of Ancient India: Earliest Times to the Sixth century" by Naman Ahuja. Apart from that, there are detailed descriptions available on different individual monuments and sites.
7. Five lesser-known monuments in India that you think everyone should visit?
All monuments in Burhanpur but especially the Ahookhana where Mumtaz Mahal received temporary burial before his body was taken to Agra for burial in the Taj Mahal, Barabar Caves in Bihar, Bhitargaon Temple near Kanpur , the baolis and tombs of Chanderi, and the monuments of Gaur and Pandua in West Bengal.