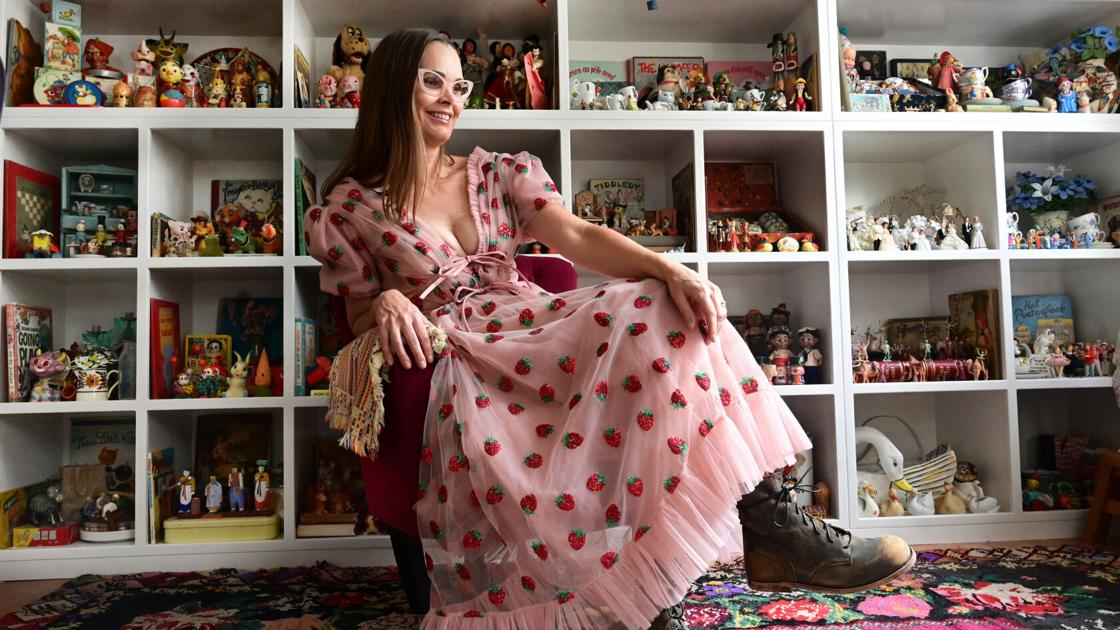 Colorado Woman's Pandemic Project Has Turned Into A Fantasy Museum In Her Home | Culture & Leisure
During a recent European vacation with her son, Karin Winter booked an entire week in Paris. To visit the flea markets in the city.
She returned to Colorado with a transport that made her more dizzy than any sightseeing tour. Winter is happy because vintage toys and quirky figures are colorful and weird, just like all of her favorite things. And because they fit perfectly into his museum.
Yes, upstairs in the Winter family home in Peyton is a small and very curious makeshift museum.
Winter has always been a collector, holding onto her father. His eyes were on parts of passenger ships and he took the kids on weekly savings trips.
For Winter, who grew up in the Netherlands, that meant traveling on Sundays to neighboring countries and talking to people in different languages ​​while browsing stores for interesting things.
"It's kind of like a scavenger hunt," she says. "That's all I knew how to do on Sunday.
From 9 to 13 years old, she began to collect small metal boxes. His love of the collection continues to grow.
She puts it this way: her husband is going to run to relax. She prefers to be left in an antique store for hours.
This turned out to be a problem when the pandemic started and stores closed.
Winter found herself scrolling through Instagram and Etsy and Ebay instead. The artist and photographer had used social media for her businesses and a blog about her life, including her life as a mother of five. She found herself following many accounts dedicated to vintage objects and interior design.
"You're stuck and can't go anywhere so I got stuck on Instagram," Winter said. "It was out of boredom."
She also found herself thinking of those empty shelves she had built by a friend to hold the 375 or so albums she had created. It has been one of her hobbies since she started having children. When she stopped scrapbooking, she moved the scrapbooking albums to storage.
By this time, she had slowed down her collection of items herself. His lifelong stash of eccentricities was stored in boxes in the nearby barn.
And it had dwindled after Winter's purge in a brief minimalist phase, inspired by popular Marie Kondo's "tidying up magic" refrains. While her house was unusually empty and clean for about six months, Winter didn't feel the joy Kondo promised.
"I thought I would be a better person for it," she said. "It didn't make me happier. It didn't do anything for me. It made me want more color and excitement.
Flash forward in the midst of the pandemic. Winter began to fill those white shelves and beyond with items she had hidden in the barn. She searched for more colorful and exciting things online as well as at thrift stores in the area, mainly Goodwill and the ARC.
"The floodgates have opened," she said.
She has found artefacts dating back to the 1800s and all over the world, from Japan to Germany. And Winter, who worked at Anthropologie, filled her shelves to look like pictures from a magazine. The magazine, however, should be on a mission to honor the foolish and the wonderful.
After all, Winter has come to call his space "the museum of fantasy and wonder."
"It started off as a joke," she said. "Oh, 'Mum has a museum now.' My whole family thinks it's silly.
The title of the museum is unofficial. But Winter's friends and supporters still flock there.
On Instagram, we often see her twirling around in a colorful dress with her colorful collection in the background.
This is not your daily collection of coins or bells. She has a taxidermized squirrel in a vintage Victorian dress holding a music box. She has 1920s carnival masks, glass eyes, a box of medical slides showing human organs, clown figurines, a papier-mâché donkey head, puppets, Dutch clogs and all kinds of dolls. scary as you can imagine.
It's the work of a true maximalist who collects what she loves, which means she often searches for things that no one else would pick up.Some pieces might be classified as junk, she says, "but you put them all together and it becomes quite something."
People noticed her, buying some of her items and asking for visits to her house. She'll usually say yes if the house isn't too messy and jokes that admission costs $ 5.
When it comes to just her, Winter typically spends time organizing the shelves. Or, when she can, she'll just admire the view.
"It just brings joy," she said. "As you look at it, you stand in front of something and you think about the colors, all the pieces, their history and their origin. This is what I would do in any other museum.