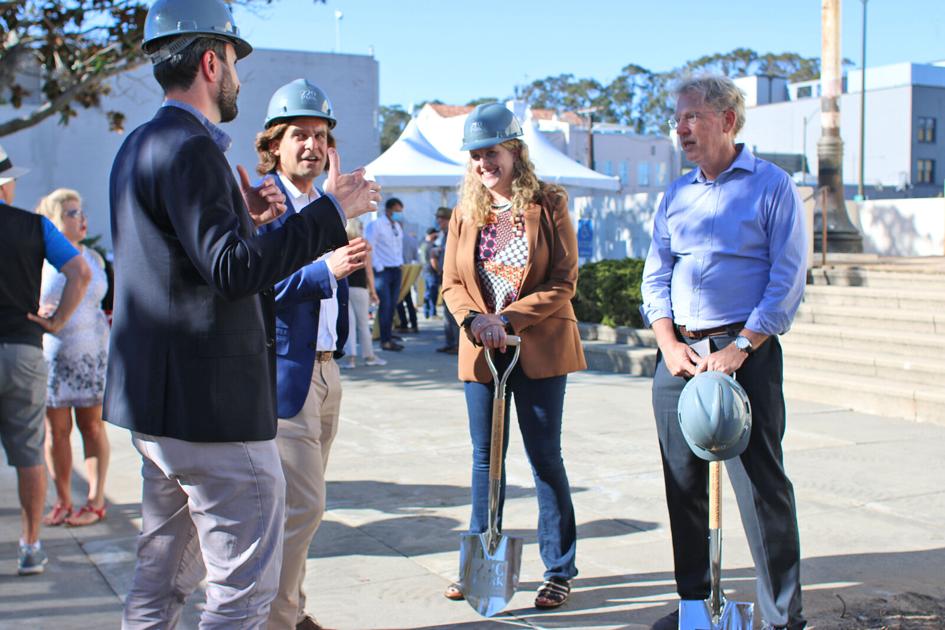 Burlingame paves the way for historic development | Local News
Authorities on Wednesday afternoon inaugurated a historic development in downtown Burlingame, intended to transform a historic post office into six floors of office and commercial space overlooking a new town square.
The project will retain the facade of the post office, with new construction rising up from behind and underground parking below. The 185,000 square foot building at 220 Park Road will be the tallest in the city and is expected to be completed by the end of 2024.
"The development of this important downtown property promises a building that will greatly contribute to the fabric of downtown Burlingame," said Mayor Ann O'Brien Keighran, highlighting the site's importance to the community.
The ground floor, including part of the existing post office, will include 15,000 square feet of retail and restaurant space. Offices above will include terraces on each level and larger patios on the third and sixth floors. The two-level underground car park will accommodate 275 cars and will be open to the public on weekends and evenings.
Construction of the project will be managed by Sares Regis Group and Dostart Development Company, which will provide the city with $ 2 million for the development of the town square, as well as an additional $ 3.5 million in matching costs to finance housing. affordable in Burlingame.
"The site is really amazing and it came with quite a few challenges," said Mollie Ricker, DDC partner. "Somehow, even with a global pandemic, every group has gone to great lengths to bring it all together in a way that works with the city."
The Post Office Lobby, a concrete building constructed in 1941 with an "eclectic Spanish architectural style" will be picked up and moved 100 feet to be stored on adjacent land while the underground parking lot is completed, Ricker said. The post office has been closed since 2014.
"You really want to improve the historical aspect and I think this building is going to do that," Keighran said. "We have a great public-private partnership throughout this development. "
The town square, which will begin to be constructed when the building is completed, is designed as a gathering point for alfresco dining and socializing with sufficient flexibility to host concerts, performances or other cultural events. , similar to Courthouse Square in Redwood City.
"I think this will be a real gem for our community for generations to come," City Councilor Emily Beach said of the town square.
Keighran highlighted the multiple public transport options available nearby, including Caltrain and SamTrans buses on El Camino Real, as well as new housing projects underway to support the influx of jobs. The development fits well with the city's overall plan, she said.
The planned lot in Town Square currently houses a public parking lot – which has already been more than replaced with the recent opening of a new 368-space public parking lot one block away at 161 Highland Ave. A development of 132 affordable housing units at 150 Park Road is also underway, designed specifically for people who work in the area.
A previous proposal for the new development included more than 100 housing units, but the plan was deemed not financially feasible by the developer. Additional concerns were raised that residents could be disturbed by events in the town square.
(650) 344-5200, ext. 105